Do you ever find yourself lost in a sea of children's toys wondering what in the world you are going to buy? There are so many different toys to choose from nowadays and it can be overwhelming at times. I have put together a list of the toys we like to use to target therapy goals with the younger kiddos and a few tips on how to use them at home to maximize and grow your child's speech and language skills. 
Melissa and Doug nesting/stacking blocks: 
These are wonderful! You can practice 1-step directions with them (i.e. stacking, putting blocks in), verbal routines like "up, up down!" and "ah ah choo" (placing a block on your head and "sneezing" it off when they say "ah choo"), exclamatory words like "uh oh" and "oh no!" when the blocks fall over, and imitating actions with objects (stacking and pushing over tower).
Critter Clinic Animal Hospital: 
This is a very popular toy with a lot of the kiddo's we work with. It comes with vet tools, keys, stuffed animals and doors that they can open and close. You can target requesting (i.e. "open", "close", "more", "all done" and "help"), color and animal identification/labeling, 1-step directions (i.e. "put in", "take out", "open", "close", "lock"), pretend play, and animal sound imitation.
Melissa and Doug puzzles:
These are great wooden puzzles that last! There are many different kinds of puzzles to choose from. We use the vehicle, animal and shape puzzles the most to target labeling and identifying goals. For identifying you can hold up two puzzle pieces and ask "where is the dog?" and see if they point to the correct item.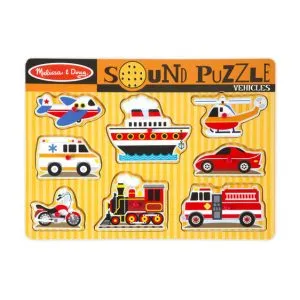 You can never go wrong with bubbles! Bubbles can be used to target body movement imitation (i.e. popping bubbles, stomping bubbles), verbal routines like "1, 2, 3" and "ready, set go", word imitation "pop, pop, pop" and lip closure for sounds like the /p/ in "pop".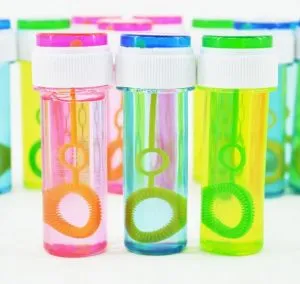 Learning Resources Counting Surprise Party toy:
These are little plastic toys that look like presents. They are all different colors and come with little figurines inside that you can find when you open them. You can target color identification/labeling, object identification/labeling, practice counting and requesting "more" and "open" with this toy.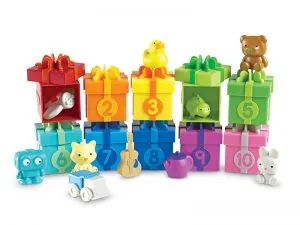 The ball tower toy is another popular choice among the little kids. We often use this toy to practice verbal routines during speech therapy sessions. You can use it to target the "ready, set, go!" verbal routine by having them place the ball at the top of the tower and say "go" when they push the ball down. You can also use it for the "up, up, down" verbal routine by holding up the ball above the toy and saying the words "up, up" and having them say "down!" to push the ball down the tower. 
This is just a short list of favorites. You can find all of these items at Target or Walmart. I hope you find some of these suggestions helpful! If you have any concerns regarding your child's development, please call TEAM 4 Kids at 623-322-8250 to schedule an evaluation. Happy shopping!
 Julia Kilduff , M.S., CCC-SLP