Today is the first official day of Spring! Spring and Summer vacations will be here before we know it. Traveling with a picky eater can be quite a challenge. Getting them to eat at home is already tricky, but when it is time to travel you may be concerned whether or not they will eat at all. Food is one of the best ways to experience a different atmosphere, whether you are headed to the next town over or across the globe. So how do you go about enjoying new foods and cultures when your picky eater is stuck on macaroni and cheese and peanut butter jelly sandwiches? 
Here are 5 tips for traveling with a picky eater:
Bring plenty of familiar snacks. As a rule of thumb, you should bring enough snacks to cover at least your entire travel day. This gives you time to find a local grocery store when you have arrived at your destination. Since there is always a chance your child may voluntarily skip a meal (for one reason or another), it is always a good idea to have snacks on hand for when they tell you they are hungry. Bring a few tried and true foods that your child can eat when nothing else interests them.

Research your destination. As you're planning all your fun activities, include some research on the cuisine you will find at your vacation destination. See what the local restaurants have to offer and try to find restaurants that will allow your family, along with your picky eater, both familiar options and new options that they may be able to try. 

Prep your picky eater. If you are planning on going somewhere where cuisine makes up a large part of their culture, watch videos, read books, or incorporate meals that are similar to what your child may expect on your trip. This will help prepare your child for any temporary changes in their diet.

Do not revolve your vacation around your picky eater. This one can be tricky, especially if traveling with your picky eater causes stress. After you have researched your destination and prepped your child, try to go into each meal with an open mind. If it all falls through, be prepared with a back up plan (Tip #1 snacks!).

Make mealtimes a family activity. Order a variety of both new and familiar foods and have the whole family try foods together. Take turns discussing how the foods look, feel, and smell. When describing foods, stay away from words like "yucky" and "gross". Instead, you can ask "what does it taste like?"
Hopefully, these tips help ease the stress of your upcoming vacation. Safe travels! If you have any concerns regarding your child's feeding development or aversion to trying new foods, come in for a feeding evaluation with one of our Speech-Language Pathologists at a TEAM 4 Kids location near you!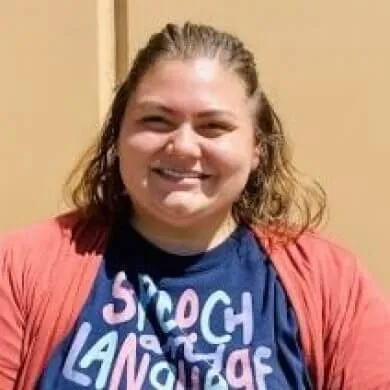 Samantha Gross M.S. CCC-SLP
In the video below, SLP Kayla discusses 5 tips and tricks to make traveling with your picky eater a little easier on vacation.