The Centers for Disease Control and Prevention has had milestone checklists on their website since 2004. These milestone checklists act as a guide for parents to identify upcoming skills related to language, cognition, social-emotional, and motor development. These checklists have acted as a baseline for parents (and pediatricians!) to identify if a child may be delayed in certain developmental areas.
The CDC recently updated this list of milestones and made significant changes to the number of total checklist items, as well as the items themselves. This change comes from a meta-analysis (compilation of research articles) performed on 34 current research articles that identify and study pediatric milestones. The CDC previously determined milestone ages that reflected children acquiring the skill within the 50th percentile of all children. For example, the previous CDC checklist items identified that out of 100 children, 50 of those children should be independently sitting by 6 months. However, that means that the other 50 children are considered delayed or to have a "red flag" if they are not performing independent sitting at this age. The new CDC milestones have now been adjusted to represent the 75th percentile of all children when acquiring skills. So now, instead of 50 of those children being considered delayed – only 25 would be considered delayed as 75 of those children acquire independent sitting skills at the age of 9 months.
Not only has the CDC changed the length of time to acquire certain milestones, but they have also removed nearly half of the listed milestones from the previous list. Crawling is one specific milestone that has been removed from the original list, despite it still being considered an important skill in most pediatric therapy settings.
Important milestones that have been adjusted include (these are just a few):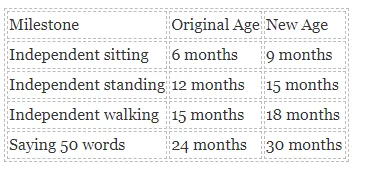 This adjustment to milestones not only affects parents, but also healthcare providers that make referrals to therapy services and early intervention programs. With the new CDC guidelines, 1 out of 3 listed milestones have been extended an additional 2-3 months from the original time window provided in 2004. This may prevent children from acquiring early intervention for services as they are not considered behind until an additional few months from the original guideline. Many therapists that work within the pediatric population are concerned regarding the delay in services, as it may take longer to provide services to "catch up".
However, an opposing argument to these claims may be that since children vary distinctly in acquisition of skills, there is a benefit to giving additional time to develop without intervention. Often the burden of attending multiple therapy services, particularly for a child that is only slightly behind, may end up creating increased stress for the caregiver and decreased opportunity for the child to explore at their own rate. Giving the child the chance to explore their environment and have a variety of experiences may lead to attained milestones that have only been slightly delayed.
These CDC milestones are, ultimately, a guide to provide parents with the resources to monitor the development of their children. The CDC stated that these milestones are "not intended to replace validated screening tools but instead to promote optimal child development and encourage professionals to act early through surveillance".
TEAM 4 Kids has our own developmental milestones checklist for parents to reference. You can download and print this checklist, or pick up a copy of our brochure at any of our clinics! As the caregiver, you often spend more time than anyone else with your kiddos – if you feel you have concerns regarding your child's development or skill acquisition, please reach out to your pediatrician or schedule an evaluation at T.E.A.M. 4 Kids!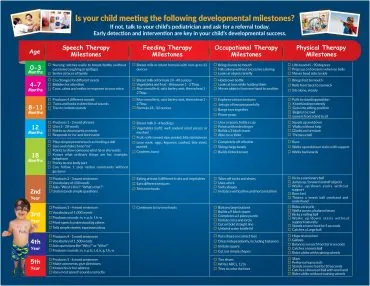 Alyssa Rosdahl, PTA