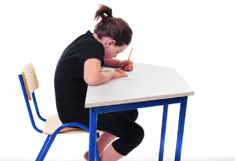 Does your child rest on his/her elbows at their desk?
Do they hook their arm on their chair?
Do they hunch over, squirm, and wiggle in their seat?
If you answered yes to all of these questions, it is essentially because your child is making modifications to compensate for poor postural control and weak core muscles.With school starting, your children are expected to spend long hours sitting at a desk constantly writing. Sitting at a desk as well as supporting our bodies during recess on the playground requires postural control. Unfortunately, many children are lacking this control due to weak core muscles. As a result, it becomes difficult for them to write and sit through class.
Our posture is crucial to our ability to write and effectively use our upper extremities for all ranges of activity. The ideal posture when sitting at a desk is the 90/90/90 rule: 90 degrees of flexion (bend) at the knees, hips, and elbows.
What can you do? Get out and get moving. Outside play (which we are starting to have the weather for again), balance exercises, crawling, wheelbarrow walks, animal walks, and prone activities are some great ways to get started. Below are some links to activities that support postural control. Also speak with your friendly OT team to learn more!! 🙂 Happy moving!!
Links for activities:
http://www.staggphysiotherapy.co.uk/blog/activities-to-improve-postural-control-and-stability-for-your-child.html
Allison Heitzinger M.S., OTR/L and Occupational Therapy Team