Feeding Therapy for Kids in Surprise AZ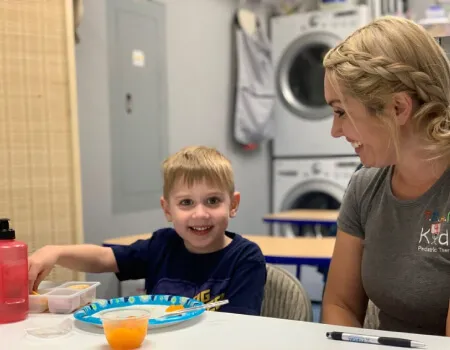 For a parent, it is an uphill struggle to feed a child that is a picky eater or who cannot chew their food effectively. Other than being confusing and worrisome, having a toddler, child, or teenager that does not eat well enough for his age could be of medical concern. At TEAM4Kids, we truly understand the parents' concerns and strive to offer the most effective feeding therapy for children in Surprise AZ.
In order to identify and treat children with feeding difficulties or are picky eaters, TEAM4Kids uses specialized and research-based feeding therapy. We begin with assessing the reasons why your toddler, or child, won't eat. Then, we treat each of these aspects and encourage children to eat a balanced, nutritious diet. Treatment techniques from the SOS, TR-eat, and Oral Sensory-Motor approach are used to help children develop the interest and motor skills for eating wide varieties of foods. We also focus on teaching parents different ways of making eating a fun process for their kids.
Feeding therapy at TEAM4Kids aims to fully treat feeding difficulties in children and support their best growth.
If You Identify a Feeding Problem in your Child
Although many people may tell you that "all kids are picky," the reasons behind your child's pickiness may include oral-motor difficulties and/or sensory aversions. Our therapists are trained to identify the underlying causes and provide individualized strategies for therapy and home.
It may be difficult to differentiate between a picky eater and a problem feeder, but all parents have a natural instinct that helps them assess their child's difficulties. If you see your toddler, child or adolescent, struggling to eat, seek immediate help. If you sense any signs of eating difficulties, it is recommended that you go through an assessment of their feeding/eating issues at an early stage in order to make the most effective growth.
TEAM4Kids – Making Food Your Child's Best Friend
At TEAM4Kids, our experts begin with an evaluation process that assesses your child as a whole. We consult with a multidisciplinary team to ensure that all the reasons why your child won't eat are identified and treated. Our Team consists of
Speech-language Pathologists
,
Occupational Therapists
, and
Physical Therapists
, however we are happy to work with any specialist your child may be currently seeing. We are all committed to helping every parent improve their child's growth and relationship with food.
We offer feeding social group classes!
What can I expect during a group feeding therapy session?
During group therapy sessions, we provide 10 different foods based on the monthly food theme to assist with exposing your child to a variety of food. The feeding groups provide the opportunity to practice eating and engaging with same aged peers that are focusing on the same skill. This is great for building a child's confidence with friends and food!
What are your hours of operation?
We are open Monday-Thursday from 7:30-6pm, Fridays from 7:30-5pm and Saturday from 8-5:30pm.
Do you provide written reports of my child's progress?
Yes! At your child's initial evaluation you will be provided with a report of the therapists findings as well as a treatment plan. You will then get updated reports every 3 months on your child's progress.
Will my insurance cover the cost of therapy?
We accept all insurance plans. Your insurance benefits will determine how much of your treatment is covered. We don't want finances to get in the way of your child's therapy needs. if you have concerns about the cost of care call us to schedule a free screening so you can learn first hand the benefits of therapy for your child.
How do I schedule an appointment?
Call one of our amazing Patient Care Coordinators at
1-800-376-3440
and they will be happy to answer any questions and get you scheduled.
What are your hours?
We are open at all locations Monday-Friday from 7:30am-6:00pm and on Saturdays in our Surprise clinic from 8:00am-5:30pm.
What payment options do you accept?
We accept cash, card or check. We also accept Class Wallet.
What can I expect with individual feeding therapy?
During feeding therapy, your feeding therapist will assist with exposing your child to new food by discussing how the food looks, feels, smells, and tastes to increase their acceptance of new food. For individual sessions, your therapist will ask you to provide 2-3 foods that your child is not used to as well as 2 foods that your child prefers.
How much time does feeding therapy take?
Every child is given a thorough assessment by our highly trained Feeding Therapists. During this assessment they will develop a customized plan for your child.
Can I observe a treatment session or watch a video?
You may watch your child's feeding therapy session. However, If you wish to observe another child's feeding therapy session we would be unable to accommodate that request. Due to feeding therapy being a medical treatment, we have to abide by HIPPA laws and cannot allow observations of therapies. You can check out our YouTube channel that has lots of tips and tricks for Picky Eaters.
Tell me about your training in feeding therapy?
A variety of approaches are used in feeding therapy, including techniques from Sequential Oral Sensory (SOS), ABA, TREAT Method, and Sensory Motor Techniques. After each session, your child's therapist will provide techniques and strategies to use as a home program to promote carryover of your child's skills in the home.
How long are therapy sessions?
Our feeding therapy sessions are 45 minutes for individual sessions and 60 minutes for groups and classes.
How long does it take to get an appointment?
Our therapist are in high demand, however, your flexibility will determine how quickly we can schedule the initial evaluation. We have been very successful at moving appointments to an earlier date once scheduled.