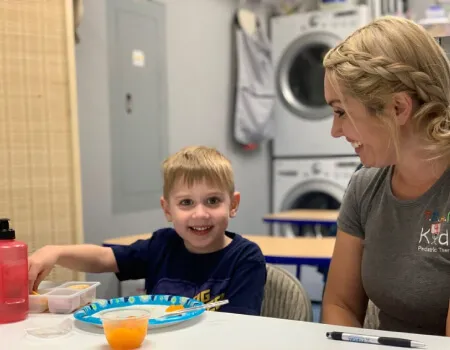 Feeding therapy uses specialized approaches designed to address many concerns surrounding food refusal and selectivity. Feeding therapy is a learning experience that helps children develop feeding skills and expand their food preferences in a positive environment.
Although many people may tell you that "all kids are picky," the reasons behind your child's pickiness may include oral-motor difficulties and/or sensory aversions. Our therapists are trained to identify the underlying causes and provide individualized strategies for therapy and home.
We treat feeding difficulties by making feeding therapy a positive experience. During feeding therapy, we use a number of games, toys, and dishes to make eating a fun and positive experience. We are committed to helping every family improve their child's growth and relationship with food.
If You Identify a Feeding Problem in your Child
Picky eating is when a child refuses food often or eats the same foods over and over. There are a multitude of reasons why a child may be a picky eater such as aversions due to sensory processing, having poor strength and coordination, or not being physically capable of chewing. A picky eater includes but is not limited to:

Restricted range or the variety of foods is fewer than 20 different foods
Cries and "falls apart" when presented with new foods
Refuses entire categories of food textures
Frequently eats a different set of foods than the rest of the family during meal times

Early treatment is recommended for any child suspected of being a picky




eater. If your child's feeding difficulties are left untreated, it can




lead to constipation, growth problems, nutritional deficiencies, and




elimination of food that they eat too frequently.
TEAM4Kids – Making Food Your Child's Best Friend
Interested in our groups or classes?
Feeding groups are beneficial for children who have a limited amount of food in their diet and are open to the idea of interacting with a variety of food in a peer setting. Each month, our feeding group food lists follow a food theme to assist with familiarizing your child with a variety of food.
Please RSVP to sign up for our FREE theme night events. 
What can I expect during a group feeding therapy session?
During group therapy sessions, we provide 10 different foods based on the monthly food theme to assist with exposing your child to a variety of food. The feeding groups provide the opportunity to practice eating and engaging with same aged peers that are focusing on the same skill. This is great for building a child's confidence with friends and food!
Do you provide written reports of my child's progress?
Yes! At your child's initial evaluation you will be provided with a report of the therapists findings as well as a treatment plan. You will then get updated reports every 3 months on your child's progress.
Will my insurance cover the cost of therapy?
We accept all insurance plans. Your insurance benefits will determine how much of your treatment is covered. We don't want finances to get in the way of your child's therapy needs. if you have concerns about the cost of care call us to schedule a free screening so you can learn first hand the benefits of therapy for your child.
How do I schedule an appointment?
Call one of our amazing Patient Care Coordinators at
1-800-376-3440
and they will be happy to answer any questions and get you scheduled.
What are your hours?
We are open at all locations Monday-Friday from 7:30 am-6:00 pm.
What payment options do you accept?
We accept cash, card or check. We also accept Class Wallet.
What can I expect with individual feeding therapy?
During feeding therapy, your feeding therapist will assist with exposing your child to new food by discussing how the food looks, feels, smells, and tastes to increase their acceptance of new food. For individual sessions, your therapist will ask you to provide 2-3 foods that your child is not used to as well as 2 foods that your child prefers.
How much time does feeding therapy take?
Every child is given a thorough assessment by our highly trained Feeding Therapists. During this assessment they will develop a customized plan for your child.
Tell me about your training in feeding therapy?
A variety of approaches are used in feeding therapy, including techniques from Sequential Oral Sensory (SOS), ABA, TREAT Method, and Sensory Motor Techniques. After each session, your child's therapist will provide techniques and strategies to use as a home program to promote carryover of your child's skills in the home.
How long are therapy sessions?
Our feeding therapy sessions are 45 minutes for individual sessions and 60 minutes for groups and classes.
How long does it take to get an appointment?
Our therapist are in high demand, however, your flexibility will determine how quickly we can schedule the initial evaluation. We have been very successful at moving appointments to an earlier date once scheduled.