There are many handwriting apps that are helpful for kiddos learning to write. These are just a few of our favorites. Most apps mentioned are free to try and provide you with a variety of activities before you have to pay.
Wet-Dry-Try
This helpful app is only available for iPads. It appeals to the D'Nealian style of printing and provides children with a step by step guide to writing uppercase letters, lowercase letters, and numbers. It utilizes the sought after Handwriting Without Tears style of teaching to incorporate multiple different cues to help your child learn appropriate spacing, sizing and letter formation. It autocorrects as needed which is helpful if you are helping multiple children. It costs $5.99 for a year of access.
iTrace
iTrace provides an engaging, bright, kid-friendly option with the ability to customize it to address writing your child's name. It is left-hand compatible which is a nice feature. It autocorrects but with greater leniency. This is a nice feature if your child is particularly sensitive to correction and becomes discouraged easily. It costs $3.99.
Letter School
This used to be one of our favorite apps but they have recently increased the cost and it is now only available for a monthly subscription. However, it is incredibly fun and interactive which is motivating for children who are particularly stubborn about handwriting. Kids love the animation once the letter is formed correctly. It will also auto correct. The price of this app is $5.00 a month but is cheaper with a yearly subscription. However, if you have your child use it consistently you will likely not need it for a whole year.
Dexteria and Dexteria Jr.
These apps can often be bought in a bundle and help children to practice their visual motor skills and their fine motor skills. Both apps are particularly helpful if you have a child struggling with their pre-writing strokes. It is fun, interactive and it has tracking features that help you to see if your child has improved over time. The price varies depending on if you buy them individually or in a bundle. The price ranges from a one time purchase price of $3.99 – $9.99.
Kiddopia
Kiddopia is another great app that has become pricier as it has become more popular. This app is helpful for your younger kiddos to help them with letter recognition, sight words, and letter sounds. It also has apps that help with fine motor skills and visual motor integration which are all important underlying skills for handwriting. It is a $6.99 monthly subscription but again, it provides a variety of offerings that are free when you download the app.
Writing Wizard
This app is so delightful. It is customizable and available for printing or cursive writing. There are interactive animations and sounds with every letter. You can do prewriting strokes, letters, numbers, your child's name, or their spelling words. Be warned, it can be very sensitive and corrects children with very little error. This is more sensitive on a phone versus a tablet. It is currently $4.99 to download.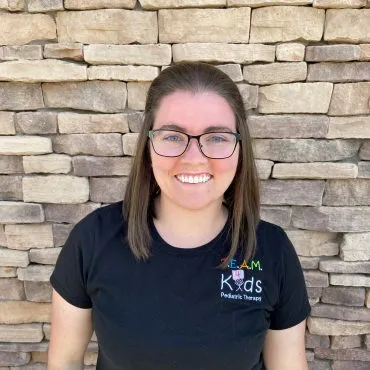 Camiel Clark M.S. OTR/L