What is Occupational Therapy?
A child's occupation is to play. For some children, this task may be more difficult and can be an indicator of developmental delays. Occupational Therapists work to help children gain independence while working on a variety of skills including fine motor skills, visual-motor skills, self-care skills, and sensory processing.
5 Facts about OT
Occupational therapists work with a wide range of diagnoses for children including Autism, ADHD, sensory processing disorder, cerebral palsy, Down's syndrome, traumatic brain injuries, premature infants, and many more.
OT can be used to improve sensory processing skills, such as tolerating loud noises, bright lights, uncomfortable textures, messy play, and crowded environments.
More than a quarter of all occupational therapists work with children in early intervention. OT was first established in pediatrics in 1919 – over 100 years ago!
Self-care skills are a large part of OT. Occupational therapy can help children with getting dressed, using zippers, brushing hair, brushing teeth, toilet training, kitchen safety, and so much more.
Occupational therapy at TEAM 4 Kids is very unique compared to other centers. At TEAM 4 Kids, we use play-based methods to create fun sessions for each child. We believe in the TEAM approach. All of our therapists work closely together to provide the best comprehensive care. Having all therapies at TEAM 4 Kids (speech, occupational, physical, feeding, myo, and ABA!) allows the therapists to have access to your child's complete medical profile. This is what differentiates our therapy from others.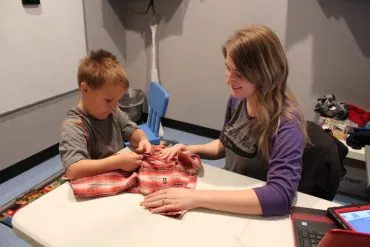 If you are interested in learning more about occupational therapy or have any questions about your child's development, give us a call at TEAM 4 Kids!