If your child doesn't like you to brush or style their hair it can be for a variety of reasons.
They might not be able to sit in one place for a long time

They might not like the feeling of their head being touched

It might really hurt due to tangles tugging on their head

They might not like the feeling of hair being in a different direction (pulled back vs hanging down)
Hair time doesn't have to be a struggle! Here are some tips to help with brushing your child's hair if they have sensory sensitivities.
Have them sit where they are comfortable. Lying on their belly, sitting on the floor, on the couch, or outside in the grass are all options.

Set aside a large chunk of time. Allow yourself plenty of time without rushing. Going slow will help your child feel more comfortable and help you be more gentle. 

Keep their attention on something else. It can be watching their favorite show or playing in a sensory bin of rice, dried beans, dried pasta, sand, play-doh, or water beads.

Prep them beforehand. Provide them with stimulation on their head through compression or a head massager. During showers, lather in the shampoo and conditioner to get them used to having someone touching their head.

Use a wide tooth comb or a brush designed for detangling. Here are a few styles we recommend trying:

Start in small sections. Do a little bit then take a break and give your child a reward.

Prep tangles by spraying with a detangler or leave-in conditioner. This can make the experience pain-free.

Start at the end and work your way up to the scalp. Stabilize the hair above where you are brushing to decrease pull on the scalp.  

Start with a low, loose ponytail or a loose braid. This will help decrease tangles with less tension on the scalp.

Praise your child for how they look afterward. You can add accessories like bows.

 Don't just do hair in the mornings. The more exposure to the task, the more tolerant they will become. If your child is prone to tangles, brushing hair more often will decrease how much it is tangled.

Let them help. By brushing their own hair they can get used to the feeling and might find it fun. It can also lead to independence. Let them choose which brush they want you to use – this takes their attention off of the fear of hair brushing and redirects it to making decisions.
Plenty of kids struggle with sitting through hair brushing. With these tips, self-care can be made easy! Call us at TEAM 4 Kids if you have any questions.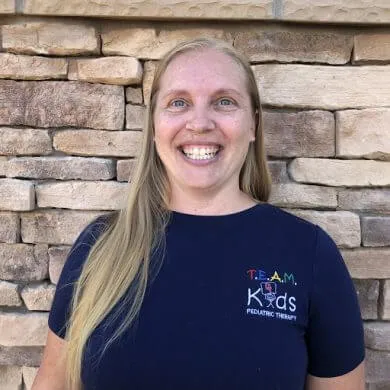 Kayla Fisher, COTA/L