Halloween can be a fun and festive holiday with lots of great opportunities for sensory development.  However, for those with sensory sensitivities, Halloween can often be overwhelming, scary, and unusual. Here are some sensory strategies from our occupational therapists to help make Halloween less scary and more enjoyable for all kiddos.
Safety first! As always, make sure to set your child up for success and safety. If you know your child has a tendency to run, dart, or hide (especially in overwhelming or stressful situations) have ID on your child (a number you can be contacted) and make sure everyone you are with is aware so they can keep an eye out as well.

Practice your Halloween Routine! Use a visual schedule, social story, or imaginative play to prepare your child for the sequence of events that occur when Trick or Treating or handing out candy at home and any potential opportunities for loud noises, crowds, or other events that could be surprising.

Provide lots of opportunities for heavy work throughout the day to help prepare your child's nervous system for new experiences. Great examples of heavy work would include jumping on a trampoline, climbing monkey bars or ladders, animal walks, squeezing playdoh, pushing or pulling something heavy (a laundry basket, a box of pots and pans), and climbing through an obstacle course of chairs, pillows, and toys.

Pumpkin Carving Messy Play! Pumpkin carving can be a fun messy play activity for some, but for others, touching pumpkin seeds can be aversive and meltdown-inducing. Try using a spoon or simply allow your child to watch you touch pumpkin seeds. Modeling how it's okay to be messy is a powerful tool in tolerating messy play. Alternatively, pumpkins can be decorated with paint, markers, or stickers instead of carving.

Ensure that your child tries out their costume in advance, especially if they have difficulty tolerating certain clothing textures or accessories (hats, masks, headbands).  If they cannot tolerate wearing a store-bought costume, it might be better to create a homemade costume out of clothes that your child already wears without a problem. Make sure to allow them time to wear it around the house to become more comfortable and used to the costume. Many places now sell sensory-sensitive costume options as well – keep an eye out!

Have a sensory safe space available if your child becomes overwhelmed — ideally, this space will be quiet or filled with music your child finds calming.

Noise-reducing headphones can be helpful in tolerating noise from crowds or from the doorbell.
These are just a few tips for a more successful, enjoyable, and positive Halloween experience. If you have any questions or concerns about your child's development please give us a call at 1-800-376-3440 to schedule an occupational therapy evaluation. Happy Halloween from the occupational therapists at TEAM 4 Kids!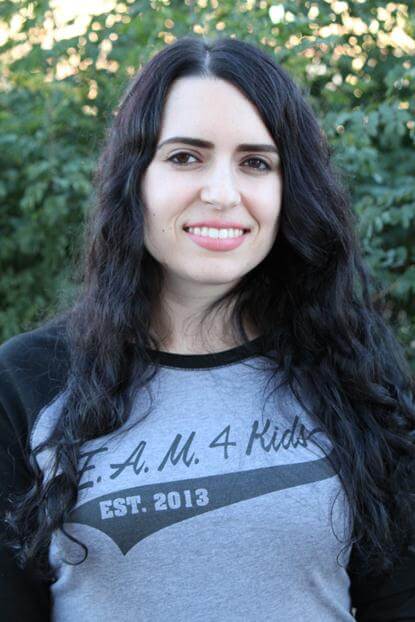 Haley Cummings M.S., OTR/L