During feeding therapy, we use a number of games, toys and dishes to make eating more of a fun experience. Here are a few simple examples of fun dishes that may help your little one with feeding difficulties try some new foods. I personally bought one of the game plates for use at home with my kids and they fight over who gets the special game plate!
Faceplates such as this are sold on websites such as Amazon. For a cheaper version, try drawing a face on a paper plate.
I love using fun forks and spoons to encourage pick eaters to try new foods. These are a few examples of forks that I have found successful in the clinic. Additionally, children love small appetizer forks that can be found at most dollar stores.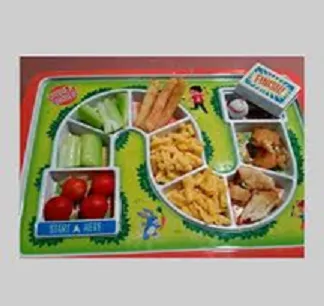 This plate is available on Amazon and allows children to receive a special surprise once they work their way around the board trying each food.
Tips for using these plates:
Put small amounts of food on the plates.
Put foods that child enjoys as well as new foods on the plate.
Remember that "trying" a new food may be only smelling, kissing or licking it.
Allow your child to tell you where to put each food or better yet, have them place the food on the plate themselves.
Rotate the plate to other family members throughout the week so the whole family can enjoy it.
Jen – Feeding Therapist/Speech Pathologist