Most parents eagerly await their children's first words. It can be worrisome when the words don't seem to emerge and the child is not talking as expected. Participating in verbal routines is one tool that Speech-Language Pathologists use during speech therapy to encourage speech in the late talker or children whose speech and language is delayed. Verbal routines consist of predictable words repeated at a predictable time. Verbal routines are used during the same activities, at the same time, in the same way, every time a specific activity occurs. Using the same words for the same activities can help children learn to say these words faster. It is important to be consistent when creating verbal routines and to give your child time to learn the vocabulary and verbal routine.
Verbal routines give your child the opportunity to participate in activities with you. They create natural opportunities for language growth by pairing words with actions. For example, during the song Wheels on the Bus, motions can be paired with the words in the song. As the wheels on the bus "go round and round" our hands and arms are also going "round and round" thus pairing this action with the words. Verbal routines provide predictable templates for your child to start learning and using new words they have heard over and over again.
Games such as peek-a-boo and pat-a-cake are familiar verbal routines that can be used during speech therapy. These games can help develop turn-taking skills while also creating a bonding experience between you and your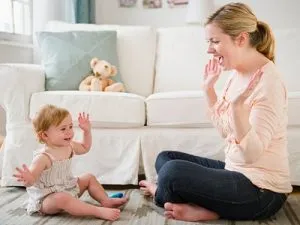 child. Verbal routines are also found in books that are repetitive such as "The Pout-Pout Fish," or in any of your child's favorite nursery rhymes and/or songs. You can even create your own verbal routines with your child that fit into your everyday routine. As your child learns these verbal routines it is important to choose keywords and pause to see if your child will fill in the word. It is important to invest the time to create and practice these routines with your child and make them fun! Some fun times to create your own verbal routines include waking up/going to bed, bath time, diaper changes, meal times, and nap time. The options are endless! If you are concerned about your child's language development, delayed speech, or your child is not talking call T.E.A.M. 4 Kids to schedule a speech therapy evaluation with one of our wonderful Speech Language Pathologists.
A link for songs paired with hand motions is included below to get you started!
Dana Messer M.S.,CCC-SLP – Speech Therapy Team